Disclaimer: thefrugalstudent.com is an affiliate of SingSaver. This post is not sponsored but contains affiliate links. If you signup for a product through one of these links, I'll earn some commission to help sustain this blog at no cost to you. For more information, read our affiliate disclosure.
I talked about credit card sign-up bonuses in several posts and even used them as one of the grading criteria in my best credit cards for fresh grads series.
Some of these sign-up bonuses may be offered by banks themselves, but more often than not, there are also attractive sign-up rewards offered by financial institutions like SingSaver.
SingSaver campaigns can get a bit tricky and leave you wondering why you're not eligible for a reward if you don't pay special attention to the terms & conditions (T&Cs) outlined in the promotion.
I've heard of horror stories about people experiencing difficulty with claiming their reward from SingSaver, but in my experience so far, there haven't been any issues.
Surprisingly, I haven't been able to find any dedicated guides about SingSaver sign-up promotions, so l figured that I should write one.
In this post, I'll try my best to cover everything you need to know about SingSaver sign-up promotions in general.
But take note that the T&Cs and promotion mechanics may vary from campaign to campaign, so you should always make sure you look through them thoroughly before signing up for any product.
Also, I'll be focusing on credit card sign-up promotions since they're the most common.
What Are SingSaver Sign-Up Rewards?
As you might have guessed, sign-up rewards are gifts that are awarded to customers who sign up for a product like a credit card after they fulfil certain criteria.
Gifts may range from physical rewards like Airpods Pro or Nintendo Switch to cash rewards of up to $350.
How Do SingSaver Promotions Work?
While every campaign's mechanics may differ, the general flow of SingSaver promotions goes like this:
Click a unique SingSaver link for a product
Sign up for the product via that link
Obtain the application reference number (for use in step 4)
Fill up the SingSaver rewards redemption form
Receive approval for the product application
Fulfil the necessary requirements of the promotion
Receive confirmation of gift eligibility from SingSaver
Receive gift
The entire process typically takes a few months because quite a bit of time is required for SingSaver and the banks to confirm that you have met all the eligibility criteria for the promotion.
I'll go into more details about each step of the process later on as well as highlight the things you need to take note of.
Is SingSaver Legit?
There seems to be a fair bit of scepticism surrounding SingSaver promotions and whether they are legit because they may seem too good to be true.
I mean, giving out gifts that are worth hundreds of dollars just to incentivize people to sign up for a card (which they may not spend much on) does sound sketchy.
And it doesn't help that the entire process often takes 3 months or longer with no communication as to whether or not you're eligible for the gift throughout the process.
Or, that the full eligibility criteria are not the easiest to understand for the average customer.
But as I mentioned at the start of this post, I haven't had any negative experiences with SingSaver so far and I've received the stipulated sign-up rewards from various campaigns multiple times now.
So I can confirm that they are 100% legit and that you will receive the rewards that they advertise – as long as you fulfil all the criteria as laid out in the T&Cs.
Case Study: Citibank Sign Up Promotion
I think the best way to break down all of the things you need to take note of when it comes to SingSaver promotions is to go through a case study from one of their actual campaigns.
So I'll be taking a closer look at the current Citibank promotion which is shown below.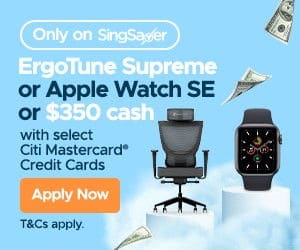 This promotion has 4 different reward options:
Dyson Corrale (not shown above)
ErgoTune Supreme Ergonomic Chair
Apple Watch SE
$350 cash
It should be noted that even though the Dyson Corrale is not shown in the SingSaver media, it is a gift option in this promotion, as stated in the T&Cs.
We also note that this promotion is only valid for 'select Citi Mastercard Credit Cards', which suggests that not all Citibank cards are eligible.
Before thinking about which reward we would like to receive, we need to make sure we are able to meet all of the eligibility criteria for this promotion.
But obviously, these details are lacking in the banner, so we need to take a closer look at the T&Cs for this promotion.
Eligibility Criteria
The T&Cs for this promotion can be found here.
I'll be highlighting some important points/terminology in the T&Cs that you must take note of.
While the exact details mentioned below are specific to this Citibank promotion, the terms that you need to pay attention to for other promotion campaigns are similar, so they can be used as a reference.
1: Eligible Cards
This refers to the list of cards offered by the participating bank that are available with this promotion.
Earlier, we noted that only selected Citibank credit cards are eligible for this promotion, specifically:
Citi Cash Back+
Citi Cash Back
Citi Prestige
Citi Rewards
Citi PremierMiles
This means you must sign up for 1 of these 5 cards to be eligible for this promotion.
If you sign up for the Citi SMRT card, for example, you would not qualify for this promotion.
Other than picking an eligible card, you also need to look out for the card's eligibility criteria, since obtaining approval for your application is also a requirement for this promotion (as stated in point 4).
For example, while the Citi Prestige is an eligible card for this promotion, it has an income requirement of S$120k/year.
So if you choose to apply for the Citi Prestige but don't meet the income requirement and Citibank decides not to approve your application, you will not qualify for the promotion.
2: Promotion Page
This refers to the page where you must submit your application form and can be found via SingSaver's website directly, or via an affiliate link from one of their affiliates, such as this Citi Rewards sign-up link.
Even though both the links from SingSaver's website and any affiliate links will redirect you to the bank's website, it's important that you don't submit your application directly via the bank's website.
This is because SingSaver needs to be able to track your application, and going directly to Citibank's website, in this case, would not allow SingSaver to do that.
3: Promotion Period
This refers to the period in which applications must be made, which is 1 – 17 Apr 2022, both days inclusive.
As explained in the next point, your application doesn't need to be approved within this period – you only need to submit your application.
4: Application Approval
This point has 2 parts.
First, your application must be final and unconditional, ie it should not be conditional on you fulfilling some requirements as set out by the bank, and should not be retracted.
Second, there is also usually a cut-off date for all applications to be approved.
For this Citibank promotion, the deadline is 17 May 2022.
5: Rewards Redemption Form
This form is where you will indicate your choice of reward to SingSaver and provide other necessary details that must be submitted in order to qualify for the promotion.
You should receive an email from SingSaver prompting you to submit this form after submitting your credit card application, but you can also find the form on SingSaver's website.
6: Qualifying Spend
This refers to the spending requirement in this promotion and often has 3 parts – spending amount, spending period, and spending transactions.
Spending amount refers to the amount that you must spend to qualify for this promotion, which is S$500 for this Citibank promotion.
The spending period refers to the period in which this S$500 must be spent to qualify for the promotion.
For this promotion, it is 30 days from the date of account opening (ie card approval).
Finally, spending transactions refer to the type of transactions that count towards the S$500 spending amount requirement.
This is usually stated in the form of a blacklist approach, where transactions that are not eligible are stated as follows:
any Equal Payment Plan (EPP) purchases,
refunded/disputed/unauthorised/fraudulent retail purchases,
Quick Cash and other instalment loans,
Citi PayLite/Citi Flexibill/cash advance/quasi-cash transactions/balance transfers/annual card membership fees/interest/goods and services taxes,
bill payments made using the Eligible Card as a source of funds,
late payment fees and
any other form of service/ miscellaneous fees
7: Retention Period
This refers to the period for which you must retain the card that you applied for in good standing to keep your sign-up reward.
If you violate this, SingSaver may retract or seek the return of the reward.
For this Citibank promotion, the retention period is 12 months from the date of approval.
8: New Customer
Whether you're a new or existing customer of the participating bank will dictate what rewards you will be eligible for in the promotion.
Usually, attractive rewards are only available for new customers, and the definition of a new customer varies slightly from bank to bank.
For Citibank, a new customer is someone who:
does not have any existing Citibank credit cards at the time of application approval, and
did not close any Citibank credit cards in the past 12 months before the start of the promotion period.
9: Existing Customer
Citibank's definition of an existing customer is simply the opposite of a new customer, ie someone who:
has an existing Citibank credit card at the time of application approval, or
previously closed a Citibank credit card in the past 12 months before the start of the promotion period.
Customer Journey
Now that you have a better idea of the key eligibility criteria for SingSaver's sign-up promotions, let's walk through the steps that you would take as a customer looking to take part in this Citibank campaign.
Just a heads up:
I will be referencing my own experience from signing up with Citibank in a recent promotion (Feb 2022).
So some of the screenshots below may display information that is different from the ongoing campaign (Apr 2022), but the steps remain the same – my apologies for any confusion!
1: Open Promotion Page
First, open the SingSaver promotion page for the card that you wish to apply for.
In my case, I was looking to sign up for the Citi Rewards card, which is an eligible card as stipulated in the T&Cs.
As mentioned above, the promotion page can be found directly on SingSaver's website, or via an affiliate link from any of SingSaver's affiliates.
From SingSaver's website, you can go to https://www.singsaver.com.sg/credit-card/products/citi-rewards-card?entry=header&from=best-deals and click 'Apply Now'.
Or, you can use this affiliate link.
Either way, you should see the screen below.

Make sure to check for the correct card name and image that you are applying for.
2: Enter Email Address
At the bottom of the same page, you will see the application process, which prompts you to begin your application by entering your email address.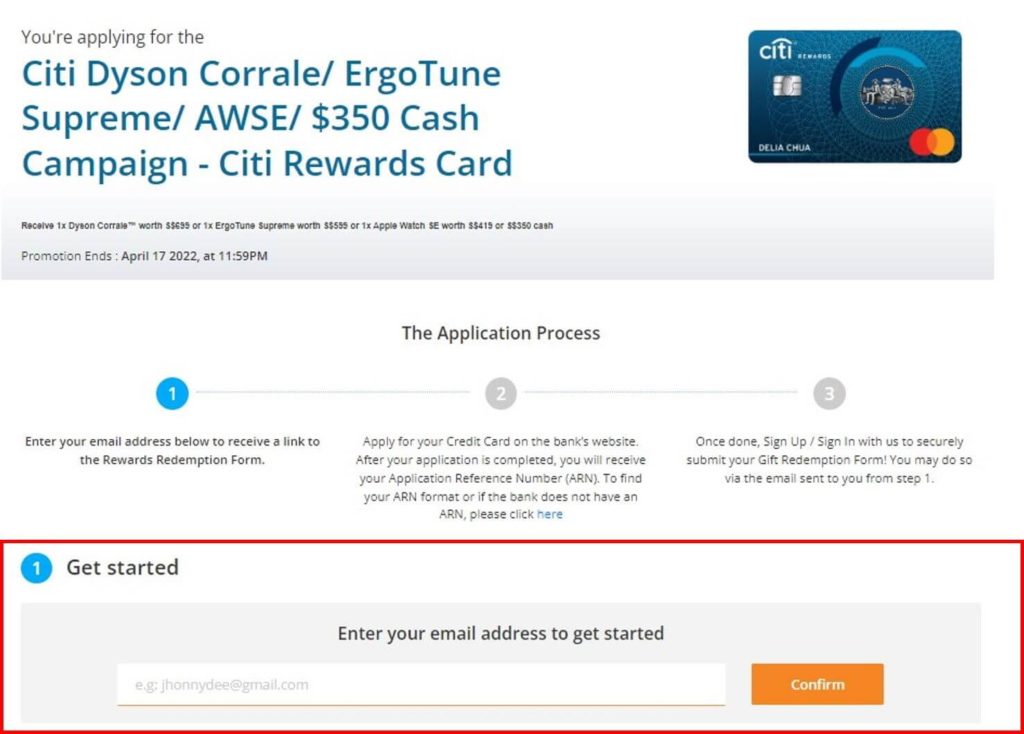 This is extremely important because all communication from SingSaver regarding this promotion will be sent to this email address – such as promotion status, rewards redemption form, etc.
If it's your first time applying with SingSaver, enter the email address you wish to use to create a SingSaver account – you'll need to do this later.
Otherwise, enter the email address linked to your existing SingSaver account.
Then, click 'Confirm'.
3: Complete Credit Card Application
After entering your email address, you will be prompted to complete your application.

Click 'Complete My Application' to be redirected to Citibank's (or the bank you are applying with) website.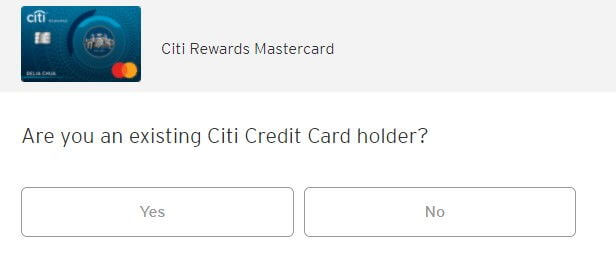 Fill in all the necessary details to complete your application with the bank.
Tip: To expedite the application process, use MyInfo.
Remember that according to the T&Cs, you must submit your application within the promotion period, ie 1 – 17 Apr 2022.
4: Confirm Application Submission
After you've completed your application, you should be taken to a confirmation page on the bank's website and receive a confirmation email from the bank.


Take a screenshot of this page and save the email you receive, because there is an extremely important piece of information there: your application reference number (ARN).
The ARN is what SingSaver uses to track the progress and eligibility of your application for the promotion, and you will need to enter this information in the rewards redemption form later.
If you don't know where to find your ARN, you can refer to SingSaver's FAQ here.
If you don't receive a confirmation email from the bank, it's best to call them just to make sure that your application went through.
5: Sign Up For/Sign In To SingSaver Account
After confirming that your credit card application has been submitted, you'll need to submit the rewards redemption form via your SingSaver account.
You should receive an email from SingSaver containing a link to the form after submitting your credit card application.
If you don't see an email in your inbox, check your spam folder as well.
But before that, if it's your first time applying for a product via SingSaver, you'll need to sign up for a SingSaver account.
IMPORTANT: make sure you use the same email address that you entered in step 2 earlier – just for consistency and to avoid confusion.
If you already have a SingSaver account, sign in.

6: Submit Rewards Redemption Form
After signing in to your SingSaver account, you will be prompted to submit the rewards redemption form for your recent application.

Be sure to select the reward of your choice and to provide the ARN from your application in step 4.
Also, if you're selecting a cash reward, make sure that the contact number you provide is linked to your PayNow account – that will be how you receive your cash reward.
Once you have entered all the appropriate details, submit the form.
IMPORTANT: remember that according to the T&Cs, all rewards redemption forms must be submitted within 14 days of application submission.
So I'd recommend completing the form immediately after submitting your application.
If SingSaver doesn't receive your rewards redemption form 7 days after your credit card application, you will be sent a reminder email to submit the form.
7: Confirm Rewards Redemption Form Submission
After submitting the rewards redemption form, you should see the following confirmation screen:

8: Receive Card Approval
Now that you've gotten all the applications and forms out of the way, you just need to fulfil the remaining eligibility criteria, which the next is to get approval for the card you applied for.
Remember that approval must be final and unconditional and must be received before the deadline stated in the T&Cs, 28 May 2022.
Granted, there isn't too much you can do about this point since it's up to the bank to approve your application.
In most cases, the approval cut-off date is ~1 month after the end of the promotion period, which should be more than enough time for banks to approve your application.
Personally, the longest I've waited to receive approval is about 3 weeks.
Even though that's a pretty long wait, it was still early enough to be before the approval deadline for most promotion campaigns.
And in the case of my experience with Citibank, I was able to obtain approval only 1 day after my application.
Tip: If you don't receive any confirmation after 1-2 weeks, I'd recommend calling the bank to check on the status of your application and kindly requesting for it to be expedited.
9: Make Qualifying Spend
Once your card has been approved, you're left with 1 final step – to make the qualifying spending.
For Citibank cards, you're able to start using your card immediately upon card approval before you even receive your physical card.
For other bank cards, you might have to wait until you receive your physical card in the mail.
Remember the 3-part criteria for qualifying spending that consists of the spending amount, period, and transactions.
This Citibank promotion requires spending of S$500 within 30 days of card approval on eligible transactions.
Card approval date refers to the date on which your card application is approved, which should be the date you receive your approval email from the bank.
As for transactions, it can be ambiguous as to what constitutes eligible – especially since the T&Cs often adopt a blacklist approach and the jargon sounds confusing.
An indicator that you can use to determine whether a transaction is eligible or not is whether or not it earns credit card rewards – either at the base rate or the bonus rate.
All credit cards earn some type of reward on transactions – cash back, miles, or points.
And the earn rate of these rewards is usually split into a base rate and a bonus rate.
For example, the Citi Rewards card is advertised to earn 10 points/S$1 on online transactions and shopping.
These 10x points are split into a base rate of 1 point and a bonus rate of 9 points.
This means that online and shopping transactions will earn 1 + 9 = 10 points/S$1.
But this doesn't mean that all other spending earns 0 points.
Other eligible transactions will still earn points, but only at the base rate of 1 point/S$1 spending.
In other words, any transaction that earns at least 1 point on the Citi Rewards card should count towards the qualifying spend requirement for this promotion.
Transactions that are ineligible for qualifying spending will usually not earn any rewards at all, ie 0 points.
Note that this is just a guideline and is not a surefire way of knowing which transactions are eligible.
To be safe, it's best to keep your spending to retail transactions that wouldn't be doubtful like shopping or dining.
10: Receive Reward Confirmation Email
After you've made the qualifying spending, it's time to sit back and wait for your reward eligibility confirmation from SingSaver.
This is usually a fairly long wait – about 120 – 150 days from the date of submission of your rewards redemption form or fulfilment of all the eligibility criteria, whichever is later.
And SingSaver usually waits until the end of this stipulated period before fulfilling your reward, so do expect to wait for the full duration.
Do also check your spam folder just in case the email is redirected there by mistake.
If you don't receive a confirmation email from SingSaver within 4 months from the completion of all eligibility criteria, drop them an email at info@singsaver.com.sg.
You can check on the status of your reward redemption at this link by entering your ARN.
11: Receive Gift
After receiving the reward confirmation email from SingSaver, you should have the details on how to receive your gift.
Cash gifts are usually awarded via PayNow, but physical gifts may require you to go down to a redemption centre to collect the gift in person.
You need to claim your gift within 6 months after the promotion end date, so it's best to do it ASAP.
12: Maintain Card Status
Finally, after receiving your gift, you need to maintain your card in good standing in order for 12 months from card approval to retain your gift – otherwise, SingSaver has the right to retract the gift.
So don't cancel your card immediately after claiming your gift.
Final Thoughts & Tips
If you're planning to sign up for a credit card, it's probably a good idea to look into the various sign-up promotions that are available.
SingSaver frequently offers attractive rewards, so you could get a great deal when you sign up for a credit card.
It can be bothersome and confusing to sieve through all the T&Cs of each campaign, so hopefully, this post helped to show you which information you really need to pay attention to.
As long as you adhere to the T&Cs of the campaign, you shouldn't encounter any issues with receiving your reward, though it'll probably be a long wait.
My best tip is to be diligent and stay on top of things.
Take note of the important dates, emails you should expect to receive, and fulfilment criteria.
If you're ever in doubt, just contact SingSaver or the participating bank for help – it's better to be more 'kiasu' and make sure you receive your reward than to risk being ineligible because you can't be bothered.
Have you signed up with SingSaver? Why or why not? Let me know in the comments below!