Once upon a time, the DBS Multiplier account used to offer very attractive interest rates.
But in today's low-interest environment, these rates have been thoroughly slashed.
However, compared to other savings accounts, I feel that the Multiplier account is still the best in terms of interest rates.
In today's post, I'm going to share a simple tip on how you can earn a higher interest on your Multiplier account. 
Multiplier Account: Overview
The Multiplier account is one of those bank accounts that targets working adults by awarding bonus interest rates for fulfilling specific criteria. 
These criteria include salary crediting, credit card spending, investments, insurance, and loans. 
Here is an overview of the respective interest rates.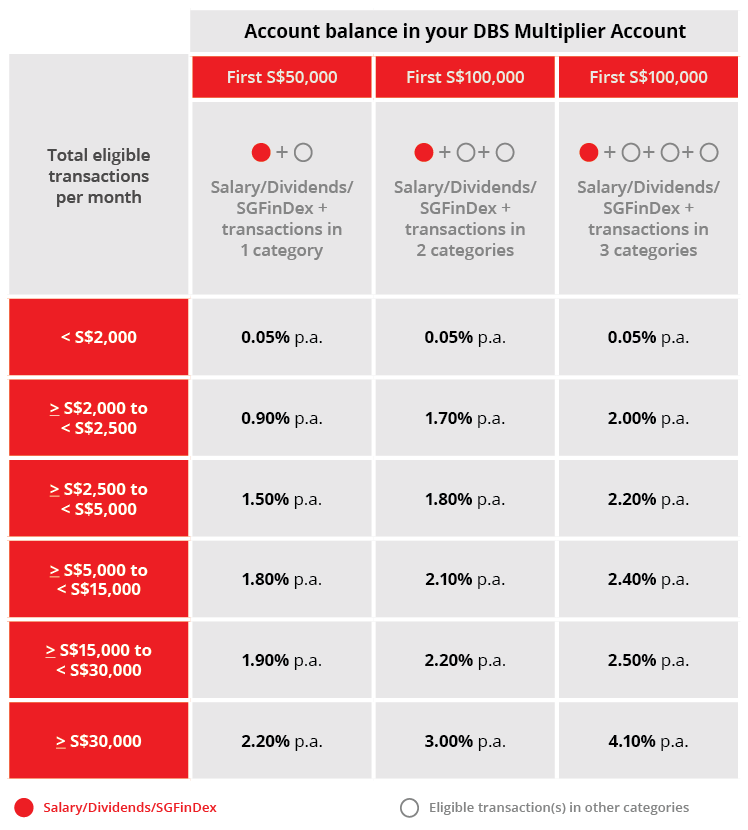 As you can see from the table, there are 2 ways you can earn higher interest rates – either by increasing the number of criteria you fulfill or by increasing your total eligible transactions per month.
I'd say that the former is mostly based on choice – whether you want to bank with DBS for the purposes of investing, insurance, and loans.
The latter is what people are usually restricted by because it's not that easy to increase your salary or card spending, for example.
Except, it is.
Joint Accounts
One easy way to "increase" your salary is to open a joint account with a loved one or someone you can trust and credit both of your salaries into this account. For the purpose of this post, a joint account will be opened with a partner.
Since the Multiplier account doesn't support joint accounts, you have to pick something else like the My Account.
Salary Crediting Doesn't Have To Go To Multiplier Account
The first thing you need to understand is that even though salary crediting is a criterion for the Multiplier account's bonus interest rate, the salary doesn't have to be credited into the Multiplier account itself.
Instead, DBS recognises any salary that is being credited into any bank account that is registered under your name and uses the total amount as the "eligible transaction".
This means that even if your salary is credited into another account like the My account, it will be counted towards the Multiplier's bonus interest transactions.
Joint Account = Your Account
The next thing you need to understand is that a joint account is registered under both your and your partner's names.
So DBS recognises the total salary being credited into the joint account as your salary, and the same is true for your partner.
For example, if your salary is $3k and your partner's $4k, DBS will treat both your and your partner's salary as $7k each, even though it's really $7k in total.
This allows you to easily inflate your salary crediting amount which can bump you up to the next interest rate bracket for the Multiplier account.
Using the above example, both you and your partner would be bumped up from the 3rd bracket ($2.5k ~ $5k) to the 4th bracket ($5k ~ $15k) even though nothing has really changed.
Things To Note
Credit Card Spending
Note that in order to start earning bonus interest, you need to fulfill one other criterion apart from salary crediting.
Among them, the easiest to fulfill is credit card spending.
There is no requirement for how much you need to spend with the credit card itself, so even if you're a small spender, you will be able to enjoy the bonus interest.
Also, note that credit card spending is only counted for cards that are registered under your name as a primary cardholder.
This means that both you and your partner need to have your own credit cards.
If you own a credit card as a primary cardholder and apply for a supplementary card for your partner, your partner's credit card spending will be considered yours because the supplementary account is under your primary account.
In this case, only you will be eligible for the bonus interest and not your partner, assuming they don't have any investments, insurance, or loans with DBS.
Some DBS credit cards to consider getting include DBS Altitude and POSB Everyday. Also, don't forget to look for signup rewards if it's your first credit card with DBS, such as a $300 cash reward.
Transfer Your Salary
Remember that even though the salary being credited into any bank account under your name counts as "your" salary, only the balance in your Multiplier account will be eligible for the bonus interest.
This means that after having your salary credited into your joint account, you need to transfer it into your Multiplier account in order for it to earn the bonus interest.
Multiplier Account Balance Cap
For the Multiplier account, the balance that is eligible for bonus interest is determined by the number of criteria you fulfill.
From the table listed above, if you only fulfill salary crediting and 1 other criterion, only the first $25k will be eligible for bonus interest, and so on.
You may find yourself hitting this cap eventually, so do take note that if you don't increase the number of criteria you fulfill, then you may be better off putting your excess savings elsewhere.
Multiplier Account Daily Average Balance
Note that the Multiplier account actually has a daily average balance (DAB) requirement of $3k, where failure to meet this requirement will warrant a $5 fee.
Thankfully, this fee is waived for you until you turn 29. Or, if the Multiplier account is the first account you open with DBS, it will be waived perpetually.
Unconventional Purpose
Joint accounts are typically used for couples who are saving towards future financial milestones together.
By employing this method to increase your Multiplier account interest rate, it means that you're not using the joint account for savings purposes.
Joint Account Eligibility
Even though joint accounts are usually used by couples who are saving for their future together, this is not a requirement – any 2 people can open a joint account together.
PayLah! Doesn't Work
Even though the Multiplier account allows customers to earn interest with the use of PayLah!, it doesn't work in the context of increasing interest rates.
This is because when you use PayLah! to fulfill the spending criterion, there are only 2 brackets – below $500 and above $500.
Increasing your total eligible transactions beyond $500 will not earn you any incremental interest, and will require spending with a credit card.
Step by Step Guide
Here is a summary of the steps to take if you wish to take advantage of this method to increase your Multiplier account interest rate.
1: Open A Joint Account
To my knowledge, there aren't any relational requirements between the 2 parties of a joint account, so you can open one with your partner, family member, or best friend.
2: Open Individual Multiplier Accounts
Both you and your partner should own a Multiplier account in order to maximise the benefits from this strategy.
A Multiplier account is useful to have because it also functions as a multi-currency account.
3: Transfer Savings Into Multiplier Account
As mentioned earlier, only the balance in your Multiplier account will be eligible for the bonus interest, so be sure that the savings you're looking to grow are deposited into the Multiplier account and not the joint account.
4: Credit Salaries Into Joint Account
Both you and your partner need to credit your salaries into this joint account. This request can usually be made by contacting your HR and providing the necessary details.
5: Transfer Salary Into Multiplier Account
As with step 3, don't forget to transfer your monthly salary into your Multiplier account to earn bonus interest.
 6: Spend With Your DBS Credit Card
Don't forget that in order to be eligible for the bonus interest, you need to fulfill one other criterion apart from salary crediting, which tends to be credit card spending for most people.
Closing Thoughts
Even though the DBS Multiplier account's interest rates aren't fantastic right now, it still offers the best interest rates among savings accounts.
While there may be other options that present opportunities for higher returns like cash management accounts and insurance savings plans, bank accounts provide the highest liquidity and lowest risk for your money.
If you're looking for a savings account to park your cash, the Multiplier account is definitely a strong contender to consider.
Where do you keep most of your savings and why? Let me know in the comments below!